April 15, 2014
(via fortheloveofmedicine)
April 10, 2014
My favorite silly gene names
On the heels of this post detailing the adorable story of the hedgehog gene, here's some more of my favorite silly gene names, and the mutant reasons their redonkulous names:

tinman - Mutants do not develop a heart (Fruit fly)
dreadlocks - Causes photoreceptors to sprout
dreadlock-like axon projections (Fruit fly)
tribbles - Causes out of control cell division (Fruit fly)
maggie - Larvae never mature (Fruit fly)
hamlet - Affects a type of sensory cell called "IIB" (Fruit fly)
dunce - Affects learning and memory (Fruit fly)
smaug - Represses Nanos, which means "dwarf" (Fruit fly)
groucho - Excessive bristles on the face (Fruit fly)
ken and barbie - Lack of external genitalia (Fruit fly)
indy - Stands for "I'm not dead yet", a la Monty Python (Fruit fly)
lush and cheap date - Affect alcohol metabolism (Fruit fly)
RING - A protein segment that comes from "really interesting new gene"
tigger and pogo - Two families of transposable elements, or pieces of DNA that can jump around genomes (Multiple species)
kryptonite and superman - Kryptonite represses superman, which causes extra stamens to form in flowers (Arabadopsis)
Yuri gagarin - Protein involved in sensing gravity (Fruit fly)
callipyge - Leads to formation of large, round buttocks in sheep (from Greek for "beautiful buttocks")
chablis, frascati, merlot, retsina, riesling, cabernet, grenache, chardonnay, chianti, pinotage, sauternes, weissherbst, zinfandel - A set of genes found to inhibit blood cell formation. Get it? Red and white?! (Zebrafish)

I think these would make an excellent art project, all you artistically-and-scientifically inclined people out there. Any of your favorites that I missed?
I agree. These would be perfect art ideas.
March 28, 2014
Medical artist Giselle Vitali, brings us a new anatomical series titled Drugs for Love. Giselle created these illustrations for an article titled Ciencia Para el Romance (The Science of Romance) in the Mexican magazine QUO. It's inspired by the idea that historically love potions, spells and amulets have been used to try to influence love. With the science of today is it possible to create a drug that can chemically alter love and cure divorce? More - https://www.behance.net/gv_ilustra
(via scientificillustration)
March 20, 2014
March 5, 2014
February 12, 2014
Art Will Make Your Kids Better Thinkers (And Nicer People). Sincerely, Science.
(via thescienceofreality)
February 12, 2014
Go into the arts…

I believe this completely. Especially for pre-meds, med students, and all those in medical/healthcare professions, sometimes art is the best way to care for our souls and ourselves. 

Yes! This!
(Source: openroadmedia)
February 1, 2014
"Medicine" by Gustav Klimt
In 1894, Klimt was commissioned to paint the ceilings in the University of Vienna's great hall. The commission included three paintings, Philosophy, Medicine, and Jurisprudence. When Klimt presented them to the university upon completion, they were determined to be pornographic in nature, and filled with "perverted excess." The university would not display them. Medicine was the second painting in the series, and depicted the river of life, and the continuity of life and death, and had no allusions to medicine or the science of healing. Because of this, he was attacked by critics, who pointed out that Vienna at the time was engaging in major medical advancements, and that the painting did not depict anything about either prevention or cure. In 1945, the paintings were destroyed in Germany by advancing forces, the only remaining portions being a photograph of a portion of Medicine, and certain drawings and preliminary sketches.

http://www.wikipaintings.org/en/gustav-klimt/university-of-vienna-ceiling-paintings-medicine-detail-showing-hygieia-1907-1
For more info, check out: http://www.jstor.org/discover/10.2307/1483769?uid=3738376&uid=2129&uid=2&uid=70&uid=4&sid=21103372210017
http://www.ncbi.nlm.nih.gov/pmc/articles/PMC139056/
January 25, 2014
"Medicine is not only a science; it is also an art. It does not consist of compounding pills and plasters; it deals with the very processes of life, which must be understood before they may be guided."
— Paracelsus (via medicaljourney)
November 20, 2013
November 16, 2013
The Doctor by Luke Fildes (1887)
Fildes' celebrated 1887 work, The Doctor, depicts a Victorian GP on a home visit. He is watching over an impoverished labourer's sick child; the bed is makeshift, two non-matching chairs pushed together; the cottage interior humble, befitting the labourer's status. The central figure is the imposing male doctor, gazing intently at his patient, while in the background the father looks on helplessly his hand on the shoulders of his tearful wife. The doctor is observing the 'crisis' of the child's illness, the critical stage in pre-antibiotic days when the patient is no longer overwhelmed by infection. The breaking light of dawn on the child's face suggests the crisis is over and that recovery is possible. Fildes' skilful use of light and perspective focuses the eye on the doctor, the patient, and the relationship between them. The child's parents are peripheral, almost irrelevant, the father is watchful but disempowered by the presence of the expert, and the mother, in a stereotypically female role, is collapsed but accepting succour from the hand of the more powerful male. 'The doctor broods, and in truth there was very little more he could do; he was almost as helpless as the parent only 6 feet and three or four social classes away', writes Douglas.1

("What Luke Fildes' 1887 painting The Doctor can teach us about the practice of medicine today")
In 1949, the American Medical Association used versions of The Doctor with the caption, "Keep Politics Out of This Picture," in a campaign against a proposal put forward by President Truman for nationalized health care.
October 28, 2013
Using the triplet code (where every three DNA nucleotides codes for one amino acid), Stuart Mitchell has converted 1 first human chromosome into music by assigning each amino acid a musical note. And what he has achieved is a hauntingly beautiful song that represents everything that we are musically. 

It's quite long but it's an amazing thing to listen to in the background if you have time!

Sam
Wow.
(via randommomentsdevida)
October 21, 2013
The Anatomy of Dr. Tulp by Rembrandt.

The Anatomy of Dr. Tulp, completed in 1632,was one of Rembrandt's first major commissions and is representative of his later works. Not only was this a major artistic achievement for Rembrandt, it was a great accomplishment for the science world as well and "marked Holland's independence from the medical schools of the Catholic South generally and of schools in Italy in particular" (Hecksher 22). The Anatomy of Dr. Tulp  was one of Rembrandt's first group portraits and coincided with the new "social phenomenon" of Dutch men commissioning portraits depicting them together while celebrating (Hecksher 24). The members of the portrait were always shown in their finest attire while at leisure.
Rembrandt's "The Anatomy of Dr. Tulp" is one of the most re-created paintings in history. It's probably the first painting he signed with his forename.
There are no dissection tools in the painting because Dr. Tulp wouldn't actually do the dissecting - that would be left to a preparer. The corpse is probably that of a criminal that was hung on that same day. The "shadow of death" or umbra mortis is depicted by the shaded face of the criminal. Here are more versions of the painting:
Edouard Manet's impressionist version: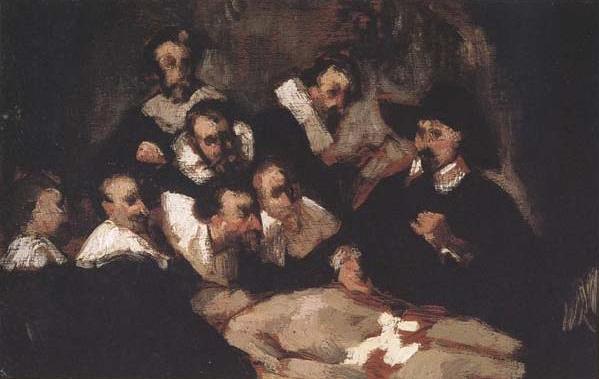 Sesame Street by Hillary White:
Legos (2007):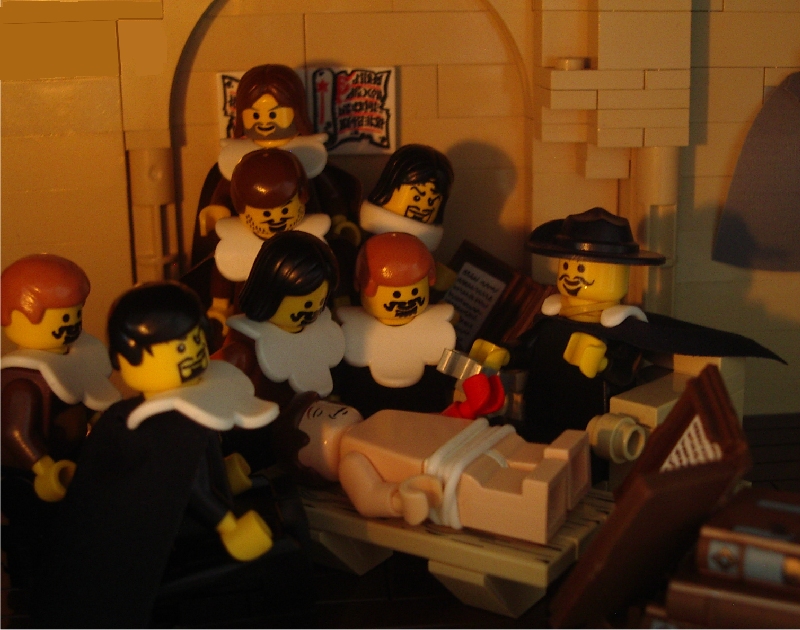 Dr. Joker by Ben Chen:
And a painting done in 2010 by South African artist Yiull Damaso, who put Nelson Mandela as the corpse. This was actually seen as witchcraft by some: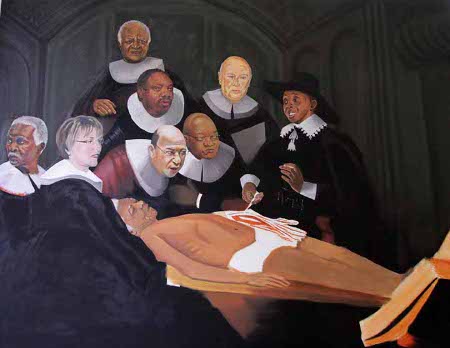 October 20, 2013
"The physician should look upon the patient as a besieged city and try to rescue him with every means that art and science place at his command."
— Alexander of Tralles, 600 CE (via compoundfractur)
October 6, 2013
Selman HOŞGÖR is a  graphic designer and illustrator based in Istanbul, Turkey. Using frequently illustrations in his designs, Selman works freelance and focuses mainly on branding and illustrations. 

He says that:

Creativity is a drug..I cannot live without…

This series of collages is called ART MOVEMENTS OF THIS LEAD AND MOVEMENTS.

Also check his:tumblr I website I Facebook I Twitter I Pinterest

 

We're Unknown Editors. Check us out on Facebook & Instagram
(via artsyyak)
Imaginative Play

Ro:I got mama shoes (he is walking in my shoes)

Me:Where are you going?

Ro:I go to work

Me:Oh really? What do you do?

Ro:I a doctor!

... ...

Medical Children's Book Idea

I need one of my medical peeps that has artistic skill draw up the cover for my new medical parody, "Llama Llama Trauma...

I volunteered to stay awake

Insanity has finally caught up to me.
Man, I just want to be in the OR.

…woah, insanity really HAS caught up to me!

Behind the Medic: 14 minutes left to go before closing time at the Urgent Care, and...

Nurse:Wow, for a Saturday, this shift wasn't so bad.

Everyone else:WHAT?!

... ...

Med Students Can't Be Choosers

for themedicalchronicles with love <3